Blown-In-Blanket System
The Blown-In-Blanket System, when used in conventional wood frame construction offers increased energy efficiency through higher thermal resistance, plus an improvement in sound reduction over a batt installation of an equal thickness. Independent testing has shown BIBS reduces air infiltration by 68% over convention insulation.
This system offers a Blown-In "dry" or Blown-In with a "water-based binder" option, which can be used in new or retro-fit construction. It is a fibreglas based insulation system, which is manufactured on the jobsite, for installation by trained and certified contractors only. BIBS is CCMC approved and is endorsed by the major fibreglas manufacturers. City Fibreglas Insulation Limited has been a certified contractor of the BIB System since 1986, with over 4,500 installations throughout New Brunswick.
Bird Construction Company would like to take this opportunity to acknowledge City Fibreglas Insulation Ltd. for a job well done. The workmanship, dedication and efforts in providing an excellent finished product as well as completing your segment of work within the scheduled time period is valued by construction team Bird Construction Company looks forward to completing many more projects together.
— Bird Construction Company
A BIBS installation is a time tested insulation system which pays for itself over time with energy saving and lower utility bills. It's advantage is controlling heat flow through a higher thermal resistance,combined with the elimination of gaps, the ability to properly insulate the most difficult detail areas, and reducing air infiltration. A BIBS installation requires the use of a polyethylene air/vapour barrier on the inside for control of air and moisture movement.
Permanent Performance
A BIBS®-insulated building has advantages that last the life of the building. A complete thermal envelope is achieved with no gaps or settling for maximum comfort, sound control and energy savings. Low moisture adsorbtion with no rot or deterioration and the plugging of cavities against humid air currents can increase the durability of the building. Fewer problems lead to happier homeowners and more profitable builders.
Premier Insulation
Blow-In-Blanket insulation works with any blueprint, fits any configuration. Cavities. Curves. Vaulted ceilings. Crawl spaces. Custom windows. The Blow-In-Blanket System (BIBS®) is a proven, time-tested, premium insulation that fits any configuration, any custom situation, any size home. It blows in easily, fills completely and lasts for the life of your home.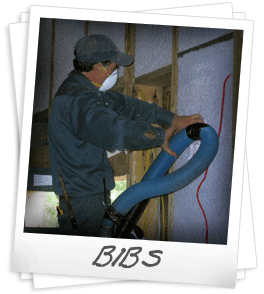 BIBS Fills gaps and voids for thermal efficiency. Unlike other insulation systems that may leave voids or gaps, BIBS completely fills the space, which controls sound and reduces air infiltration in the wall cavity. So your house is snug, secure, thermally efficient and draft-free.
BIBS is safe and easy to install. Developed by Ark-Seal almost 20 years ago, BIBS is the most widely accepted and independently tested blown-in wall system used today. Little wonder - it's easy to apply, clean, fast and effective. It's also fire-resistant, moisture-resistant, and does not attract or act as sustenance for animals. And because BIBS uses non-combustible fiber glass, there are no chemicals or noxious odors over time.
With BIBS, loose-fill insulation is blown behind netting using specific installation techniques. BIBS is licensed by Ark-Seal to independent contractors so only qualified installers can apply it. And only approved insulation products may be used. These include Johns Manville Climate Pro® or SpiderFiber®, CertainTeed InsulSafe® SP or Optima, and Perimeter Plus by Knauf Insulation.
BIBS offers optimum comfort and performance.
It's simply superior, from top to bottom. In addition to sidewalls and metal framing, BIBS is ideal for under floors, in ceilings and wherever acoustic control is needed. BIBS is the perfect insulation for today's custom homes. It offers outstanding thermal performance and high R-values, cutting utility bills and leaving you with an energy-efficient home. It never settles or separates, corrodes pipes or wires, or produces mold or mildew.
Certified Installation
When you select Blow-In-Blanket insulation for your home, you are purchasing peace of mind.
Insulation is only as effective as it is installed. If voids and gaps are left unfilled, heat and sound can pass from inside to outside and from room to room thus negating much of the insulation's protective properties. Therefore, it is paramount to use the finest quality materials combined with trained and certified people to install your home's insulation.
No other product in your home is as critical to the overall comfort and energy efficiency for the life of the home. Blow-In-Blanket is a state-of-the-art, environmentally friendly, custom fit insulation process utilizing specially manufactured fiber glass blowing wools that are installed in your home by BIBCA certified professionals. This process provides you with the highest effective R-values attainable today.
There is no substitute for quality in your home; there is no substitute for the Blow-In-Blanket Contractors Association. We ensure peace of mind for you and your family.
Photo Gallery
Visit the Official Website of the Blow-In-Blanket System at www.bibs.com
Share this with: